A year before his first Ironman triathlon, Adam answers FAQ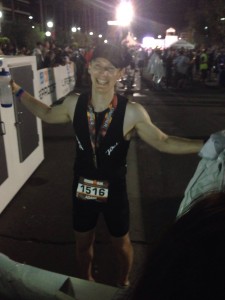 Q1: This'll be your first Ironman. Are you worried, excited, in shock, all of the above?
The fever hit me in the days following registration: night sweats; dreams about race day and getting lost; obsessing over new gear and swimming tutorials. I can dip in and out of worry, excitement and numb shock by the hour. Excitement should win out in the end.
Q2: Tell us about your fitness background. How many triathlons have you done already?
I've been running and following Crossfit for the better part of the past four years. My first triathlon, Bluewater, was in November of 2011. Shortly thereafter, I raced in Lavaman (April, 2012), and the Lake Havasu City Triathlon in Nov. 2012. I played a lot of basketball before I got into all this Crossfit and endurance madness, and still try to play every now and then.
Q3: Which sport is your strongest and which needs the most work?
Running is my favorite, and it used to be my strongest. But I'm still recovering from a stress fracture and I haven't quite returned to full strength. At the same time I've improved dramatically in the water and on the bike. So if I had to rank them from strongest to weakest I'd go: Bike 1, Run 2, Swim 3. All fun.
Q4: What are your goals for the race?
To avoid getting sunburned; not let 'em see me cry; and finish in 12 hours or less.
Q5: Who, or what, inspires you?
My aunt Leslie who battled cancer for 19 years, smiling
My brother Elliot – a Sergeant in the Marines
My Mom – who I'm pretty sure can beat me at arm wrestling
My sister Cecily – who never makes excuses
Passing people
Q6: Imagine it's November 16, 2013 – the night before IronmanAZ. If you could send your future self a note would it say?
Dear Adam,
Don't worry: you're a robot. Pain does not register. Shut down for the night. Start up early in the morning. Everyone in front of you is a zombie. Robot enjoy kill zombie.
Love,
Adam
Q7: Enough about Ironman. What do you do when you're not training?
Guitar. Writing. Photography. DIY Crossfit. Work in social media at the local power and water utility. Coffee. Seeking new ways to level up my life.