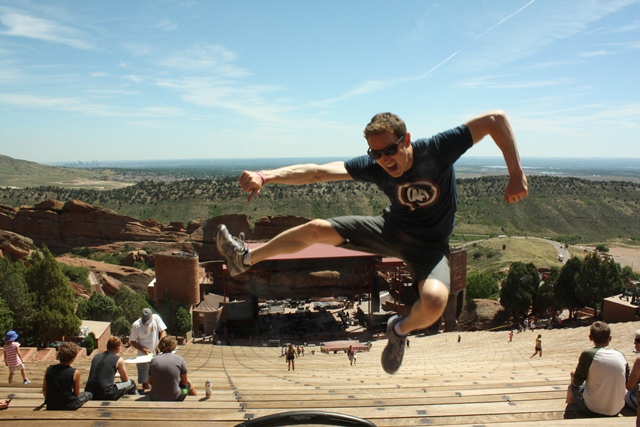 The Boulder Ironman 70.3 triathlon is comprised of a 1.2-mile swim, 56-mile bike and 13.1-mile run, all set at the Boulder Reservoir, at the base of the gorgeous Rocky Mountains.
For me, the race served as the first true test of my hacked Crossfit Endurance training strategy. It was also the first time I've run over six miles, since injuring my foot back in February.
The race is half the distance of the full Ironman triathlon we have our sights on, and a major checkpoint on my road map to November 17.
So, how'd it go?
Freaking awesome.
Read on for a breakdown of the race, my nutrition plan, as well as two valuable lessons learned.
Also, thanks to everyone for all the well wishes and support! We're galloping with a full head of steam toward Ironman Arizona, and appreciate you following along.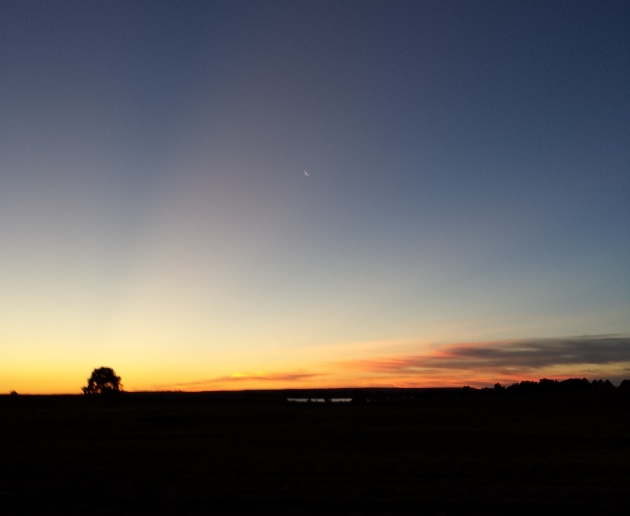 Swim: 1.2 miles in 43:17
By far my best swim in a race.
Instead of getting caught up in the competition and revving up my engine to swim faster, I stuck to my strategy and focused on maintaining the smooth and efficient Total Immersion form I've been working diligently to perfect. When everyone else slowed down, I kept going. I passed other swimmers (rare for me), never stopped to rest and felt fresh coming out of the water.
The swim start was organized in waves based on anticipated swim time. I'd never seen this style of start before: normally the waves are arranged based on gender and age group. On one hand it was nice swimming alongside others of a similar pace, since there'd be fewer instances when I'd have to swim around slower swimmers, or those taking a rest.
On the other hand, the calm, organized and staggered beach start is a walk in the park compared to the crazy swim start at most triathlons, much less the chaotic, wading start at Ironman Arizona. So it wasn't much of a dress rehearsal.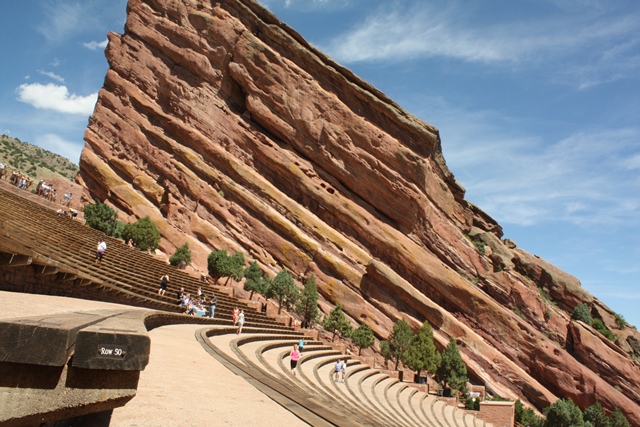 Bike: 56 miles in 2:44:55
One of the nicest rides I've ever been on.
My bike felt like a rocket and I cranked it pretty hard on the fast course. With the Flatirons and beautiful Colorado mountain-farm scenery as the backdrop, I couldn't help but feel inspired, delighted and lucky.
Run: 6.37 miles in 53:38
(1 of 2 loops on the course)
Training has been going great lately, and my foot is getting there, but it wasn't ready to take on this race's 13.1 miles. Most of my long runs fall in the 4- to 5-mile range, and I decided early on that it'd be a big foolish jump to try and gun it for the half marathon.
So I ran cautiously, swallowed my pride, and called it quits after one loop – even though I felt great. I could have kept going. And yeah, it hurt not to cross the finish line or get a finisher medal. But it was the smart move and I'm proud that I kept my eyes on the IMAZ goal and didn't let myself get distracted. Will power baby. Work smarter, not harder.
Race-day nutrition breakdown
For breakfast at around 4:15am: water, protein shake, bananas, applesauce and almonds.
Hydrated with water during the hour leading up to the race.
During the race I stuck to sports drink (six scoops of Accelerade in three water bottles on the bike) and squeezed in one gel+water on the run.
After the race, I immediately drank my post-workout homebrew, and then enjoyed a sloppy joe (no bun) and cole slaw, provided by the race, with lots of water.
Altitude shmaltitude
The mile-high elevation didn't affect me one bit during the race. Arriving in Denver a few days early, gave my lungs time to acclimate to the new environment.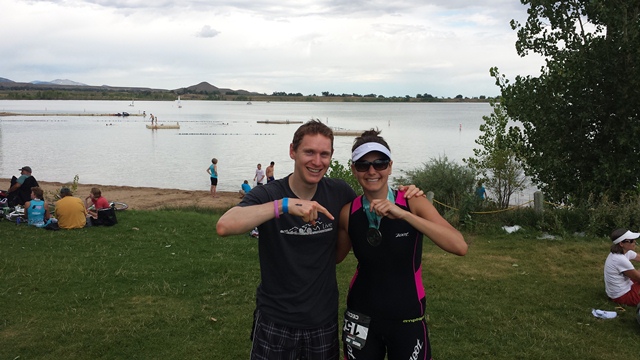 Two lessons learned
1. On race day, show up to transition at least 15 minutes before it opens. Parking and traffic were handled poorly at the race, and we – like many others – arrived late, rushed and stressed. Not the calm, confident mindset you want before the race. It all worked out in the end, but I'll be sure to avoid that scenario on November 17. Maybe we'll pitch a tent and camp out at transition the night before IMAZ.
2. I need to develop a better sunscreen strategy for IMAZ. I'm white. Very white. Very, very white. I've had my share of sunburns and know by now that if I'm going outside, I need to apply sunscreen like it's my job. At this race, I put on sunscreen before the start, at each transition and after the race. It worked for the most part, but in my hurried state, I missed a few spots and got mildly burned on my shoulders and legs. If you're white like me and have some tips skin protection during an Ironman, please post in the comments.
– Live every day –
Adam
P.S. Shout outs to Cecily for a great performance and finishing the complete race, strong; and to our buddy – and fellow triathlete – Mike, for a great race, and for taking that awesome photo of my mile-high flying ninja death kick punch at Red Rocks, at the top of this post.