"It's been said that the Ironman marathon is the place where you meet yourself – inner voices that never existed before suddenly roar, weaknesses neglected in training become painfully clear, and new reserves of strength manifest themselves in awe-inspiring ways." – Susan Lacke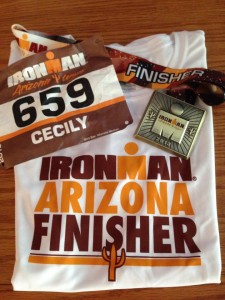 This quote says it all. There's a lot that can happen during the 13-17 hours you spend on the Ironman course. Just like in training, you'll experience low points that leave you questioning your decision to sign up for this thing as well as adrenaline-filled highs that remind you exactly why you did. The roller coaster ride of emotions reaches it's apex in that 200 meter finish line chute, the end of which immediately leaves you craving more and asking yourself "what now?"
To wrap things up (for this season), I'll lay out my highlights from each leg of IMAZ as well as my plans moving forward to answer that "what now" question.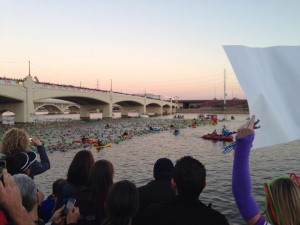 Swim
Second to the finish line, the start of the race was the highlight of the entire day for me. Adrenaline was definitely building, but I felt surprisingly calm in the hours leading up to the start. I woke up and all of my race-day training kicked in. I was operating on auto-pilot from the second my alarm went off. This morning was really just another day of training.
After getting all of our stuff set up, Adam and I relaxed, rolled out and hung out with our family and friends (props to them for making it out there before sunrise!). At 6:30, we made our way over to jump in the water, at which point I think we both realized where we were and the emotions kicked in. We exchanged "go get 'ems," a hug and possibly even a few tears of joy, pride and excitement before jumping into Tempe Town Lake.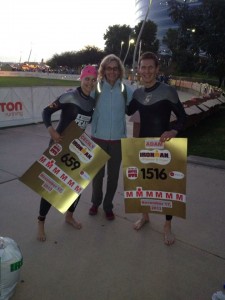 I made my way up towards the front so I could get a view of all the spectators filling up the Mill Ave. bridge above. The energy in the water was unreal with 2700 athletes, including 900 first-timers, ready to prove to themselves, family and friends exactly what they're made of and what this entire last year has been about.
The gun went off at 7:00 and we were off. It was madness in the water, and I was definitely far too close to the front of the pack. Next time, I would stay further back and move to the sides with the other slower swimmers. I stuck to my routine and kept things nice and easy on the swim, using it as a warm-up for the rest of the race. It was over before I knew it and I was moving on to conquer 112 miles on the bike.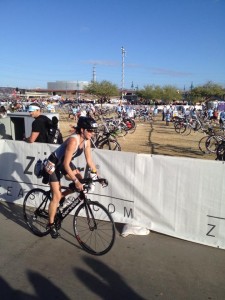 Bike
The three-loop bike course proved to be both mentally and physically challenging. While it was nice to loop around and see familiar faces three times, each loop got slower and less exciting. I found myself relying on aid stations solely for the "pump-you-up" music they had blaring.
Everything pretty much went according to plan. My nutrition was spot on. I did lose one sports drink bottle to jittery hands, but those are the things I prepared for. I had enough extra nutrition on my bike to get me through. No stress there.
The one major problem I did have was overflow from training: that damn IT band. Somewhere around mile 20, all-too-familiar knee pain started nagging, taunting my mental strength. Despite religious foam rolling for the last month of training, this flare-up set in at least 40 miles earlier than it ever had during my long training rides. After a minute or two, I replaced the "oh shit" thoughts with "what do I need to do to get through the next 92 miles?" I babied my right leg, took it easy and hopped off the bike at aid stations to stretch out and try to loosen things up. The pain stayed consistent, but its consumption of my psyche diminished drastically.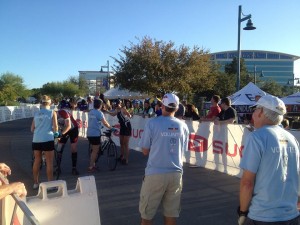 The rest of the afternoon on my bike was spent singing Drake's "Eyes on You" and checking out all of the sweet rides on the course. Just as I was thinking how grateful I was to not be one of the poor souls on the course dealing with flat tires or bad crashes, my luck almost ran out. Making my way back to Tempe on the second loop, I hit a bad crack in the road at an awkward angle and was almost thrown off my bike: commence acts of swooping, swerving and holding on for dear life, desperately trying to recover. To make matters worse, the not-so-graceful recovery put me right in the path of a mile-marker sign. Commence additional swooping and swerving. Thankfully, I recovered and that close call brought me right back down to earth. The final loop was a cautious one with repeated thoughts of "just get back to Tempe." And, once I did, I was so grateful to have just completed my first century ride and could not wait to get my legs moving on the run.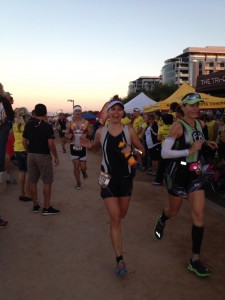 Run
The first step of the run was another "oh shit" moment. My IT band was screaming at me. I made my way through the initial crowd of excited spectators with a smile on my face, and then the walking began. The fist two miles were consumed by frustrated thoughts and wonder of how I was going to get through a marathon on this leg. Then, I reminded myself that I had already completed 114.4 miles of this race (on track with my expected times, mind you) and there was no way in hell I wasn't going to get to that finish line.
My mental cues on the run were as follows: "It's almost over. Nice and easy, smile, make friends." I was in pain the entire time, stopping at aid stations every mile to put ice up my shorts in an effort to keep inflammation down on my IT band and cranking out my leg with my knuckles. It wasn't pretty, but I did what I needed to do to get me from one aid station to the next, 26 times.
I turned the painful 26.2 miles into a huge social hour. I found people running around my pace and struck up conversation. I said "thank you" to every stranger who cheered me on. I accepted high-fives. I kept my mind engaged and therefore, avoided the "zombie effect." I witnessed the mental and physical breakdown of other runners and did everything I could to cheer them on. It was during the run where I realized that an Ironman (or any other competition) is as much of a mental test as it is physical. Anything is possible if you keep smiling and stay positive.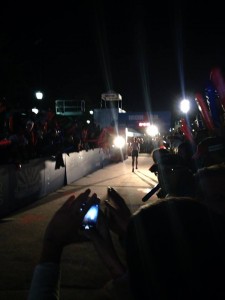 Before I knew it, I turned the corner to see the bright lights and hear the cheering spectators crowding the sidelines of the finishing chute. That 200 meter run was the most incredible experience of my life, full of pride, relief, exhaustion, excitement and sadness that this journey was coming to an end. As soon as I crossed the finish line and heard "Cecily Fuller – You Are An Ironman!" I immediately started thinking about what was next for me.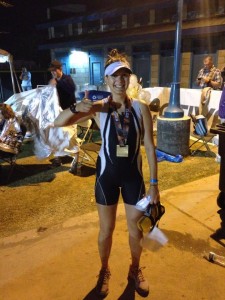 To Be Continued
It's time for me to get back to some other goals I put on the back burner as training ramped up. Here's what's on tap for me moving forward:
– Get back to school to finish my pre-reqs for PA school
– Keep on a "maintenance" training schedule during this off season and start to incorporate CrossFit again
– Stick to Olympic and Half Iron distances next Summer: HITS Half Iron in Grand Junction, Boulder 70.3, Steamboat Half Iron/Olympic and Boulder Peak Olympic
– Apply to PA school Fall 2014
– Spend November 2014 – June 2015 training for Ironman Coeur d'Alene
– Start PA school (hopefully!) July/August 2015
Until next time!
– Live Every Day –
Cecily