CFE training logs, nutrition strategy, split times, timelines, gear, resources, and fun with graphs – from my second Ironman triathlon.
I'm dumping everything from IMAZ 2017 into this one epic and convenient blog post.
But if you only have 30 seconds, here's the abstract:
I finished IMAZ 2017 in 13:12:10, which is 18 minutes and 8 seconds faster than my first Ironman triathlon four years ago (see IMAZ 2013 Race Report). I followed a CrossFit Endurance (CFE) training plan with significantly fewer workouts than my 2013 CFE Ironman Plan, and I focused my training plan mostly on running. As you might expect, my bike and swim were slower this year, but I cut my marathon time by more than 45 minutes. All in all, a great day.
OK, go put out whatever fire you need to put out right now, and come back when you have some time to dig into the gold mine of CFE Ironman data, insights and resources I painstakingly lay out for you below, including:
Graphs on graphs on graphs comparing 2017 to 2013 by the numbers
My gear, and the stuff I used in special needs bags
A new nutrition strategy that avoided the GI issues that slowed me down last year
Complete training logs from 10 months of CFE Ironman workouts
Two great resources: a coach that made me a better swimmer, and a book that made me a better runner
OK, that's enough bullet points for now, many more to come
The race
We'll start with our first graph: a look at how my times this year compare to my first Ironman race, four years ago.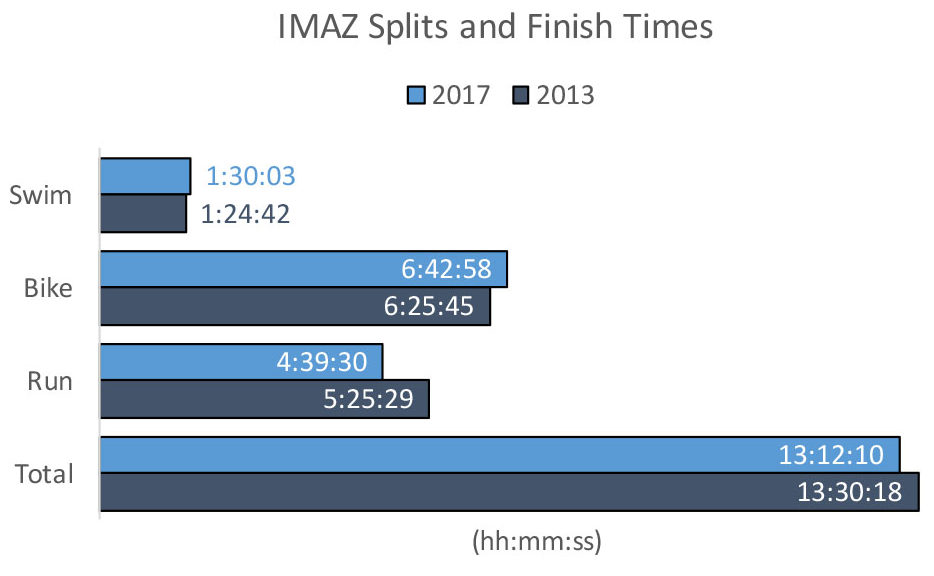 The swim was the easiest part of the race. My time was slower, but not by much. And thanks to an improved Total Immersion swim stroke (more on that later), I felt relaxed and pretty fresh out of the water. No need to rush or stress about the swim.
The bike sucked. It was super windy – especially on my first and third loops. I also got flagged for drafting. The official rode by right as I got passed by another cyclist. I looked guilty, but I swear I'm innocent. Either way, I had to pull over and rest for five minutes in the penalty box. A bummer, but I'm sure I benefited from the quick break. On the third loop I felt drained and worried I was going to be shot for the run.
I destroyed the run. It felt so nice to be off that bike. Other than the occasional stop for nutrition I maintained a steady pace the whole 26.2-mile adventure (about 10:48 / mile). In 2013 I remember spazzing out to pump myself up and finish the race strong. In 2017, I'd been there before – much more chill.
Race day timeline
Morning of:

 3AM wakeup / Breakfast smoothie / Coffee / BM / Light mobility

Transition set-up:

Arrive at 5AM / Pump bike tires / Prep bike water bottles / Body Marking / Body Glide / Sunscreen / Light warmup routine / Wetsuit / Drink 1 water bottle throughout

Swim (1:30:03):

 Nice and uneventful

Transition 1 (8:43):

Sunscreen (assisted) / Helmet / Shoes / Sunglasses

Bike (6:42:58):

Windy / So brutal / Penalized five minutes for drafting / Missed grabbing water bottles at some of the aid stations which left me slightly dehydrated at a few points

Bike Special Needs (halfway):

Sunscreen / Sweet potatoes / New multi-hour bottle of Hammer Sustained Energy (SE)

Transition 2 (10:56):

Sunscreen / Water / New multi-hour bottle of SE

Run Special Needs (halfway):

Sweet potatoes / New multi-hour bottle of SE

Finish (13:12:10):

Pizza / Water / Warm morning clothes / Get outta dodge
Nutrition strategy
In 2013 I flooded my body with Accelerade sports drink as my primary source of calories. My body reacted by flooding it out. I got the runs on the run – I can't help myself.
This year I switched to Hammer Nutrition Sustained Energy (SE) sports drink for my primary source of calories. It has protein and everything else I needed, without the stuff (dairy I think) that sent me to the port-o-potty every 30 minutes in 2013.
I also scaled back the amount of calories I took in: from 400 calories / hour in my 2013 nutrition plan, to about 200 calories / hour this year.
This worked out to about 2 scoops of SE per hour, which I sipped from a multi-hour, six-scoop sports bottle, along with about 16oz of plan water from another source (disposable bottles I picked up at aid stations on the bike, and gulps of water from aid station cups on the run).
I added Crystal Light and Hammer Nutrition Gels to each multi-hour bottle for flavor.
Also, Hammer SE can't be mixed more than a few hours before consuming because it has no preservatives, so it'll go bad if it sits there, especially in the heat.
Therefore, I froze one mixed six-scoop multi-hour SE bottle the night before and stuck that one on my bike (SE bottle #1). I then put SE bottle #2 with six scoops of SE unmixed in my Bike Special Needs Bag, along with another bottle of water. Halfway through the Bike, I stopped at Special Needs, mixed the new SE bottle #2 with the cool water and was ready to roll for another few hours. I did the same thing for the run, placing unmixed six-scoops SE re-fills in my T2 (SE bottle #3) and Run Special Needs bags (SE bottle #4).
I also treated myself to some sweet potatoes, mini Clif bars, and bananas every now and then throughout the race for some solid-food pick-me-ups.
CFE Ironman Training Logs
Click here to dive into my workout logs from 2017
That spreadsheet has every workout (more or less) from my 10 months (more or less) of CFE training in 2017.
Each row is its own workout, and if there are two rows with the same date, that means I did two workouts that day.
I also included a tab that shows the general schedule I put together at the beginning of the year. I ended up straying pretty far from it, but everybody gotta have a dream, mang.
If we compare the number of workouts per month this year, to my first Ironman, we arrive at this graph: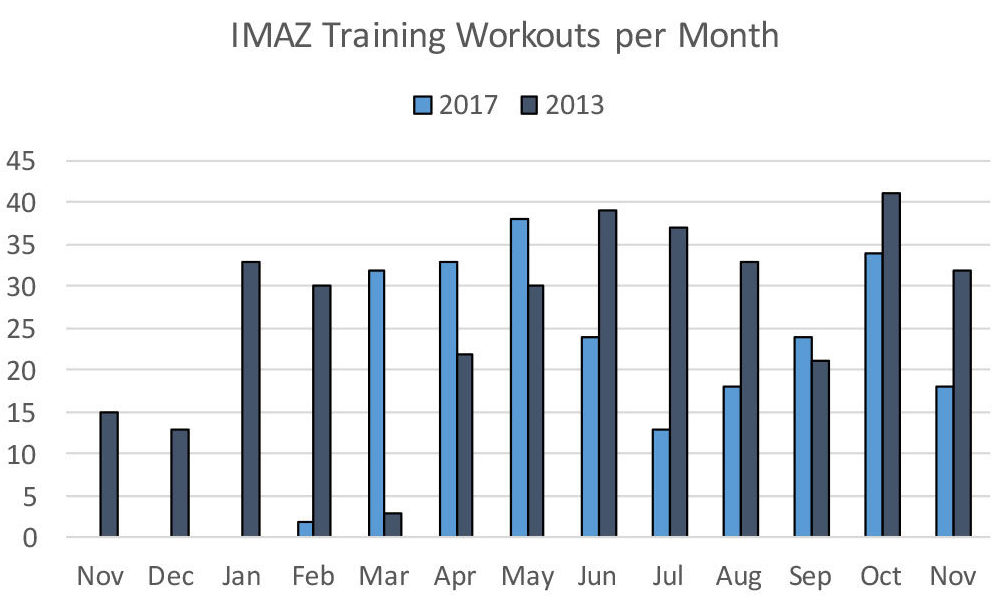 Here you can see, by the light blue bars, how I revved up in the spring, scaled back in the summer, and played catch-up in the fall. Conversely, in 2013 I geeked out at the beginning of the year, injured my foot in the spring, and pretty much went nuts from the summer onward.
My mantra from 2017: under train, over perform
Now, let's take a look at the kinds of workouts I did complete.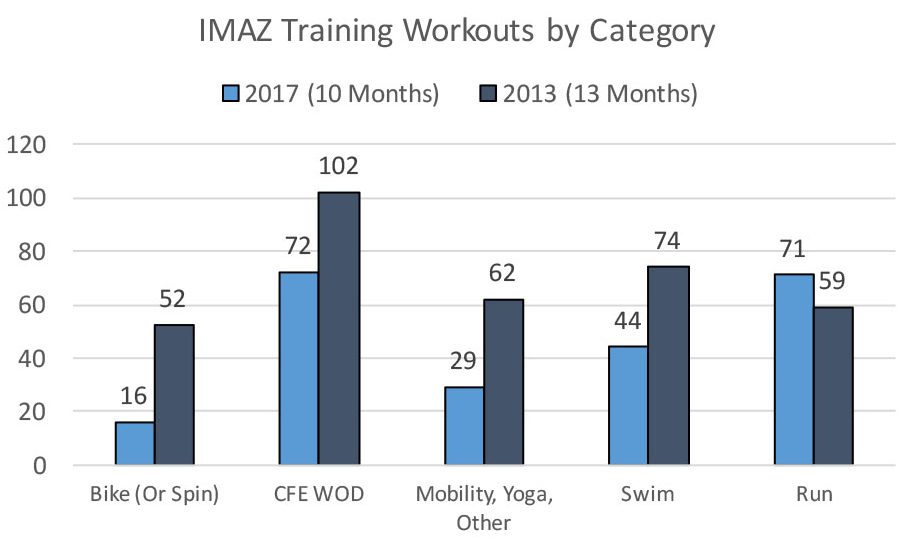 Even though the scales are off (10 months vs 13 months), this graph shows a) how much I cut back on bike and swim workouts, and b) how much more I ran this year.
It was great to not be hindered by Posterior Tibial Tendonitis like I was in 2013.
This is further reflected in the graph below, which shows the max distances I completed over training – less bike, less swim, more run.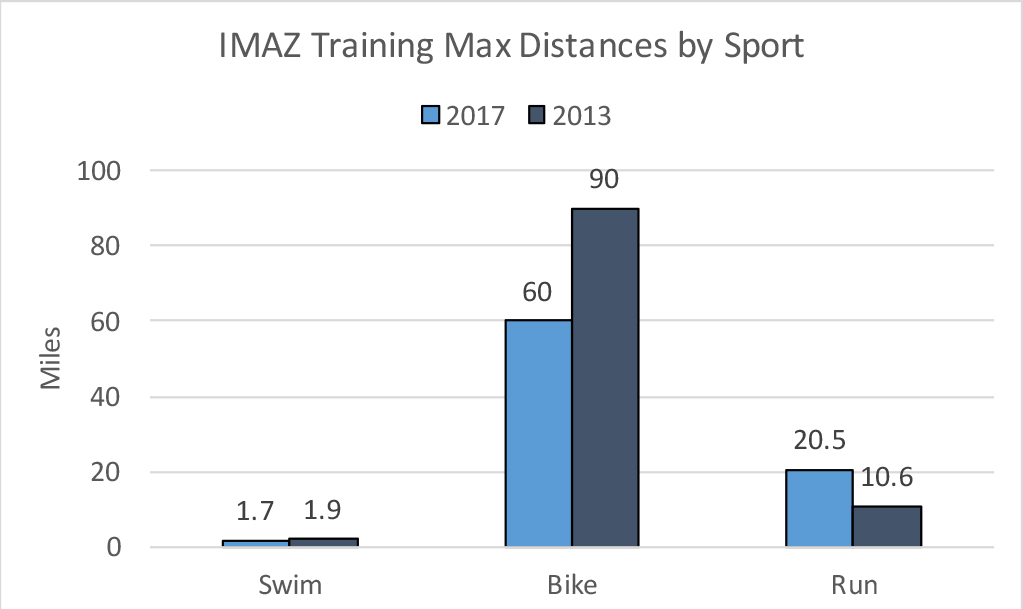 Training Resources
This year, I used the Ultra Plan in the book Unbreakable Runner by Brian Mackenzie, as my primary training guide, and I hit the trails as much as possible.
The idea originally was to get crazy and tackle a 50-mile trail run two weeks after IMAZ. Well, that didn't happen (my IT band was a bit sore after IMAZ), so an IMAZ PR will have to do for now.
It's a good book that you can pair nicely with Mackenzie's triathlon-specific textbook: Power Speed Endurance. Both are highly recommended if you're looking to go CFE over LSD (Long Slow Distance).
Also, last year I taught myself Total Immersion swimming with a book, DVD and YouTube videos from swim-coach legend Terry Laughlin (sad side note: Laughlin passed away in Oct 2017 – cancer).
This year I felt I hit a swim plateau. So I signed up for a handful of lessons with Camelback Coaching. This expert advice fine-tuned and improved my technique dramatically. I was about half-way there on my own, and it really helped to have someone else point out the spots that need improvement. The only thing I'd do differently in this case would have been to take the lessons earlier in the year to give myself more time to practice the new technique.
As I mentioned above, it didn't improve my time, but it improved my efficiency and made up for my lack of swim workouts. Well worth the investment.
Thanks
Thanks to everyone who cheered on during the race and otherwise supported another endurance adventure.
And thanks to everyone who continues to follow this blog and comment on our articles.
We don't post as often as we used to – but when we do, we hope you get something interesting and useful for your own endurance adventures.
– Live Every Day –
Adam