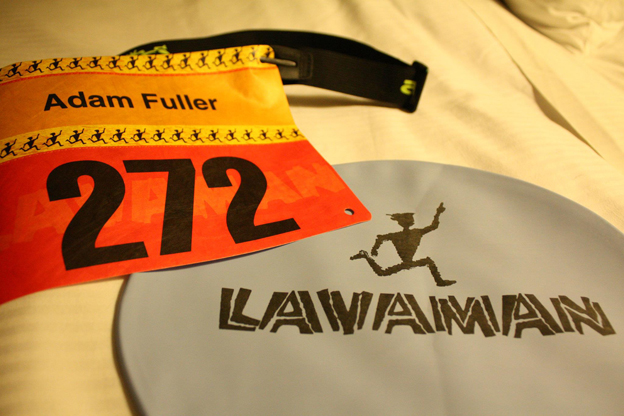 It's tough not to get nervous and panic a bit when you're crammed in the water, among hundreds of other triathletes, waiting anxiously for the gunshot to start the race.
The challenge ahead appeared so daunting. And considering the months of training; the late nights and early mornings; and all the people who helped me get to that point, the pressure to perform quickly built up.
I worried about all the things that could go wrong out on the course: a cramp in the open water; a flat tire on the side of the highway; a misstep on a lava rock.
I wanted to dominate this race for my supporters, my coaches and teammates, the patients and families who benefit from Team In Training and the Leukemia & Lymphoma Society, and for my aunt Leslie…
But it's tough to take yourself too seriously when the back of your neck reads, "It's not a race till I poop myself."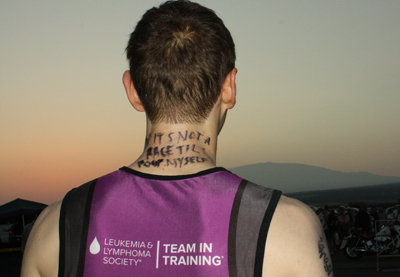 I looked down at the rest of my body ads, laughed and reminded myself that the race is the fun part.
The four months building up to the race, the preparation, the training – that was the hard part and the time to worry.
But on the day of the race, I was in great shape and all of the pieces were in place: My bike, equipment and nutrition were accounted for. My race number and timing chip were affixed and the transition area was set. I had memorized a quick path to my bike from the swim and knew my routine from front to back.
The only thing to focus on was to go fast and believe in yourself.
The worry washed away and the calm confidence from the day before quickly returned. "You got this," I told myself.
Then the gunshot sounded and I was off on the 1,500-meter swim, joyously slicing through the clear, 75°F ocean water.
I felt buoyant and free thanks to the saltwater and could see straight down to the ocean floor. I passed over coral, bright yellow fish and even a sea turtle along the way.
I never lost my breath and only slowed down a few times to make sure I was going in the right direction. The return leg of the swim seemed to drag, but after 32:13 in the water I was back on the sand and running to my bike at the transition area, located about a quarter mile from the beach.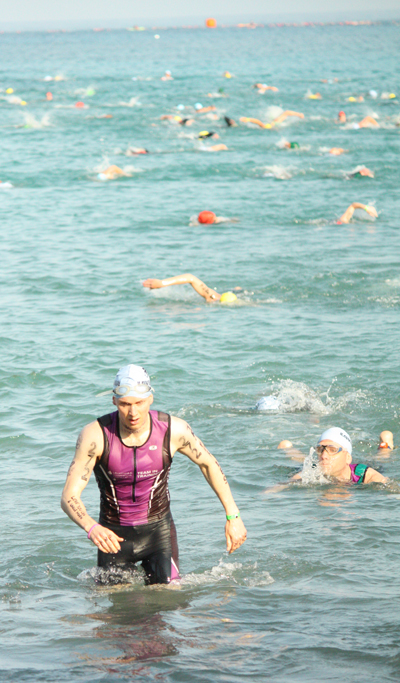 Thankfully I didn't have a wetsuit to strip off, so at this first transition, I only had to mess with my socks, bike shoes, helmet and bike. I was out of T1 in 2:17 (one minute faster than my 3:18 T1 time at Bluewater, my first triathlon).
The 40-kilometer bike ride took us out and back along highway 19, across a portion of the Ironman World Championship bike course. I was in the zone and remained pretty focused along the ride, but still managed to take in the eerie, Mars-like lava-rock surroundings and panoramic ocean views.
The wind somehow managed to blow head-on both on the way out and the way back, but fortunately it wasn't very gusty that day. The ride took me 1:17:32…a decent time, but I'd like to trim that down closer to the one-hour mark in my next race.
I whizzed into the second transition chanting to myself: "Bike-Helmet-Hat; Bib-Shoes-Go!" to establish a quick, thoughtless rhythm to the upcoming exchange. It helped, and I posted a T2 time of 1:33 (With some better bike and running shoes I can get this down to under a minute, but it's still a drastic improvement from my 3:09 T2 time at Bluewater).
Then came the grueling, sun-baked, six-mile Lavaman run that I'd been dreading. My bruised left foot had been cumbersome for the three weeks leading up to Lavaman, and on race day it wasn't feeling any better.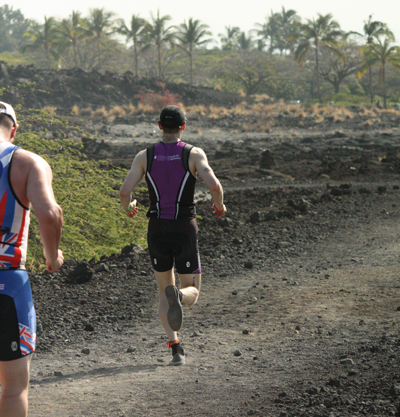 When I took off on the run I was concentrating on two things: 1) finding safe places on the lava field for my feet to land; and 2) how much pain my foot was going to cause.
To my surprise, my foot seemed to feel fine and I channeled all that unnecessary worrying into keeping a steady pace, passing other runners and positive reinforcement.
With the overwhelming contingent of Team In Training participants at Lavaman, whether you're passing or being passed, there is no shortage of positive reinforcement.
At nearly every turn you could hear shouts of "You're killing it!" or "Go Team!" I've never seen such camaraderie among competitors in any other sport and it was refreshing, even during the hottest stretches on the run course. It may be unique to endurance events. It may be unique to TNT. But it's an inspirational feeling everyone should witness.
I started to get hot, tired and thirsty on miles four and five and by that time, my lame foot had grown numb, which was fine with me, since no feeling is better than bad feeling.
But that changed when I hit the sixth and final mile of the race. It ran along the coast in a narrow, uneven trail filled with hazardous coral, lava rock and sand. My left foot didn't care for the surface and voiced its frustration by sending steady shots of pain up my shin as we trudged toward the finish line on the beach.
My pace slowed dramatically and I longed for the days of free, painless, high running that I'd grown to know and love through training. I felt disserviced that I had to run on such treacherous terrain with a gimpy wheel and began to make excuses in my mind for why I needed to slow down, or why I wouldn't be able to finish it out strong.
Then I took another rocky step and heard the words, "You're not a victim," come out of my mouth; as if my mind was reminding my body who was in control here.
I turned it back on and booked it to the finish line, notching an official time of 2:44:09 for Lavaman 2012.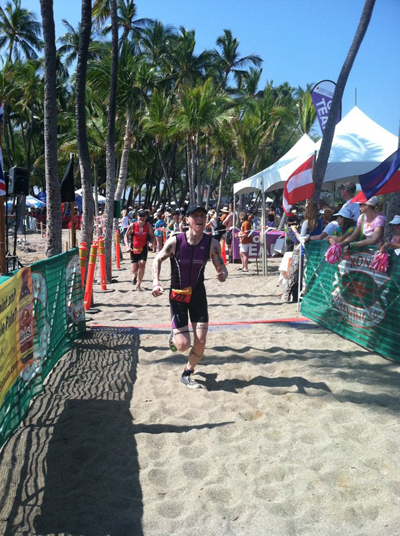 I finished 248th overall (out of 1,200) and 36th out of the 96 competitors in my 30-34 age group.
My run time of 50:35 was slow for me, but I was happy with setting a personal record by over twenty minutes and beating my goal of 2:50:00 by nearly six minutes.
After I crossed the finish line I found some shade and stole away a moment to reflect on it all. I swelled with pride and gratitude for all the good that had been accomplished with Tri for Les: new friendships; news coverage; a healthy, driven lifestyle and positive outlook; the continued celebration of the life of my aunt Leslie and most importantly over $5,000 raised for the Leukemia & Lymphoma Society.
Thank you to everyone who helped take Tri for Les Lavaman from a huge challenge to a huge success. See you at the next race.