Tri for Les t-shirts raised over $400 for the Arizona Humane Society!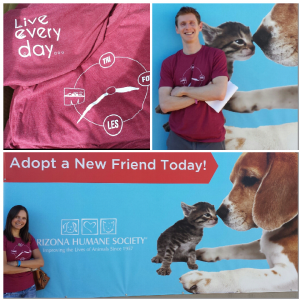 Here you have it: proof that we didn't run off to Belize with the revenue generated from our Tri for Les: IMAZ edition t-shirts
The Tri for Les community donated a grand total of $416.33 to the Arizona Humane Society in honor of our animal-loving aunt Leslie.
We dropped off the check the day after our big race (notice the tired in our eyes in the photos here).
Here's an idea of what the donation amount will cover:
The average cost to care for an animal until it's adopted ($300)
"Mercy grooms" for two neglected animals with painful, severely matted coats ($50 x 2)
Food and vaccinations for one animal for a week ($10)
We're happy to have been able to give something back during our Ironman journey, and lucky to have such a generous crew in our corner.
Thanks to everyone who bought a shirt, rocked it on race day and otherwise supported the cause.
You guys rule! Be sure to remember that every time you wear, see or daydream about these shirts.
– Live every day –
Adam and Cecily