A recap with lessons learned from my first Ironman triathlon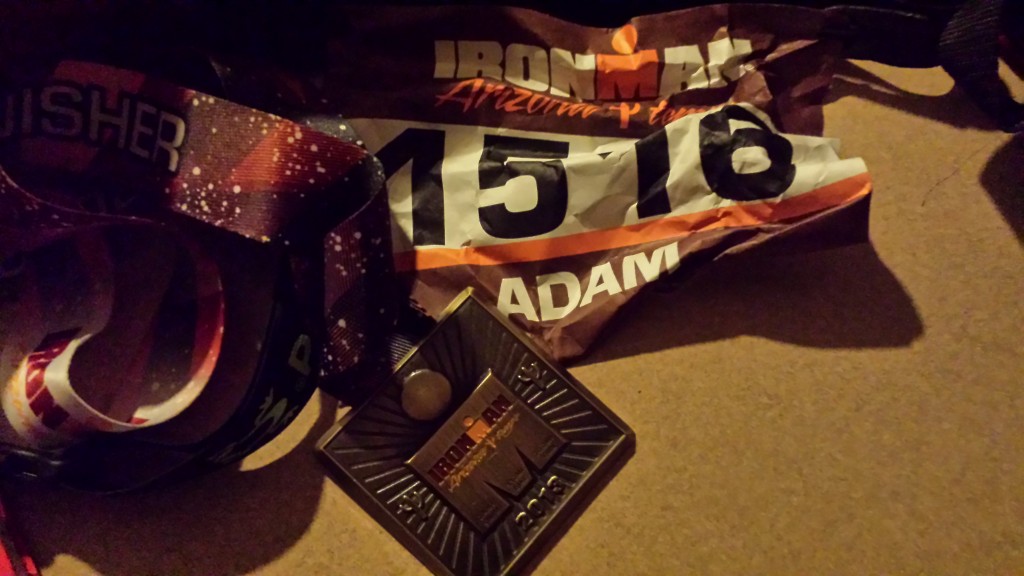 Three weeks ago, I crossed the finish line at Ironman Arizona in 13:30:18 and accomplished my biggest goal of the year: to become an Ironman.
The race was one of the best experiences of my life and I still haven't come down from that high.
I frequently brag talk about the feat to anyone who'll pretend to listen, replay the day in my head, and scroll through finisher photos, articles and notes from the race.
As much as I'm tempted to keep basking in my Ironman glory, I need to keep moving if I want to make this experience truly last.
Similar to my excitement at the beginning of the year to conquer Ironman Arizona, I can't wait to build on this momentum and launch into new projects and races on the horizon.
But before moving on to what's next (which I'll detail in another article), I'm going to share analysis of my performance at Ironman Arizona.
By evaluating my performance and sharing the gory details, I hope to not only cement the takeaways in my head, but also offer insight to help other Ironmen in training.
Read on for an updated report of my taper week, analysis of the swim, bike and run, plus major lessons learned from drinking too much sports drink (hint: lots of time wasted in the Port-o-Potty) and failing to plan for the first few hours after the race (hint: a cold, stiff, delirious and cranky Adam).
Before the race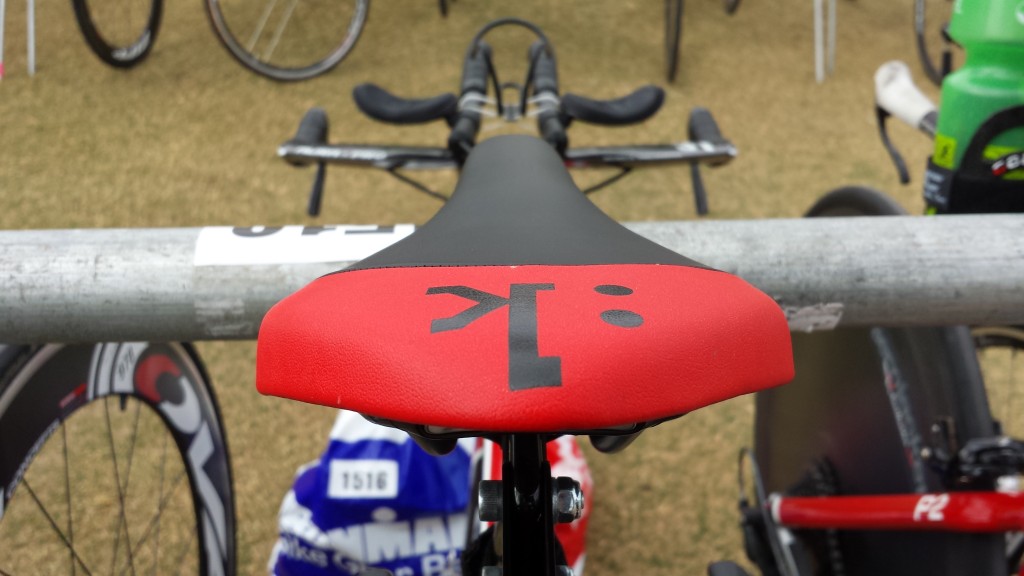 After a year of training, studying, writing, cooking, eating, sleeping and breathing myself into Ironman shape, every fiber of my being was teeming with anticipation as the day of reckoning approached.
I had put in the work, and believed that my Crossfit Endurance based Ironman training program would position me for a strong showing.
The unorthodox approach to Ironman training consisted of shorter distances at higher intensity, along with strength and conditioning workouts, six days a week for the better part of the past year.
My longest distances from training:
Swim: 3000m open water (Oct. 19, Time of 1:09)
Bike: 90 miles (Aug. 17, Time of 5:14, 17mph, brutal)
Run: 10.58 miles (Sep. 30, Time of 90 minutes)
(You read that last part right: I never ran over 11 miles prior to the marathon leg of my first Ironman. In fact, that 10.58-mile run was my longest run ever.)
Despite not having covered the mileage of a full Ironman triathlon in training, I wasn't all that worried about being fit enough to cover the distance.
However, I was concerned about my lame left foot and the Achilles tendinitis I'd been experiencing on long runs during the last month of training. Therefore, I took it light and focused most of my efforts during taper week to loosening up and strengthening my Achilles tendon and calves.
Here's how my taper week shaped up:
Sunday: Bike 30 miles light (1:48, 16 mph) + Mobility exercises
Monday: Physical therapy session (astym) + Yoga
Tuesday: Swim 800m light (13-15 SPL, focused on rotating hips, keeping head down and body level and extended) + Mobility exercises
Wednesday: Mobility exercises + CFE WOD (Helen at 70% effort: Three rounds for time of: Run 400m (subbed rowing 500m due to Achilles), 21 1.5pood kettlebell swings, 12 pull-ups; Time of 17 minutes)
Thursday: Physical therapy session (astym) + Mobility exercises
Friday: Mobility exercises x 2
Saturday: Mobility exercises x 2
On Saturday, the day before the race, everything ran smoothly with remarkably no stress. Bike check-in was a breeze, meals were relaxed, healthy and on-time and there always seemed to be great music on the radio. It was like the last episode of Breaking Bad (spoiler alert) when everything just fell into place for Walter White (may he rest in peace), as he went around tying up loose ends.
This left me in a calm and confident state of mind – which is just the place I wanted to be. I wrote myself a pep-talk with instructions for race day, set the alarm for 3am, and went to bed at 9:36pm.
Race-day morning: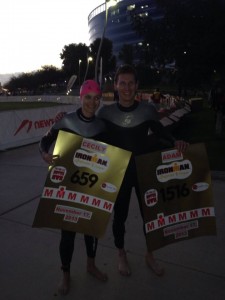 After a surprisingly unbroken and steady night's sleep, I popped out of bed, ate my breakfast (as prescribed in my Ironman nutrition plan), stretched out and hit the road.
We found parking and arrived 30 minutes early to transition without any stress. This is huge because the last thing you want to be doing that morning is sitting in traffic or bickering with people about where to park. Takeaway: Always try to arrive at least 15 minutes before transition opens on race-day morning.
Once my tires were pumped and gear was set, I went through my warm-up routine of applying sunscreen, foam and lacrosse ball rolling, stretching and going through mobility exercises. Everything was mechanical and methodical, with nothing to occupy my mind other than visualizing a great race day.
As start-time neared, I felt a bit rushed putting on my wetsuit and hurried to find a place among the masses waiting for the green light to jump in the lake. My first mistake: I didn't leave myself enough time to check-in my morning clothes bag. So after the race I wouldn't have access to the warm clothes I had been wearing that morning. I didn't realize it then, but I would pay for this slip-up later that night. Takeaway: put on wetsuit at least 30 minutes prior to start time.
After everything was put away (thanks to my mom and Cecily's coach Tom for helping out), I found my sister and we scurried over to join the other athletes. This is when the emotions kicked in. Fighting back the tears, and the adrenaline, we hugged and said how proud we were of each other. Then the man on the loudspeaker started yelling at us to move it, and get in the water.
The swim: 1:24:42 (5:18 under goal)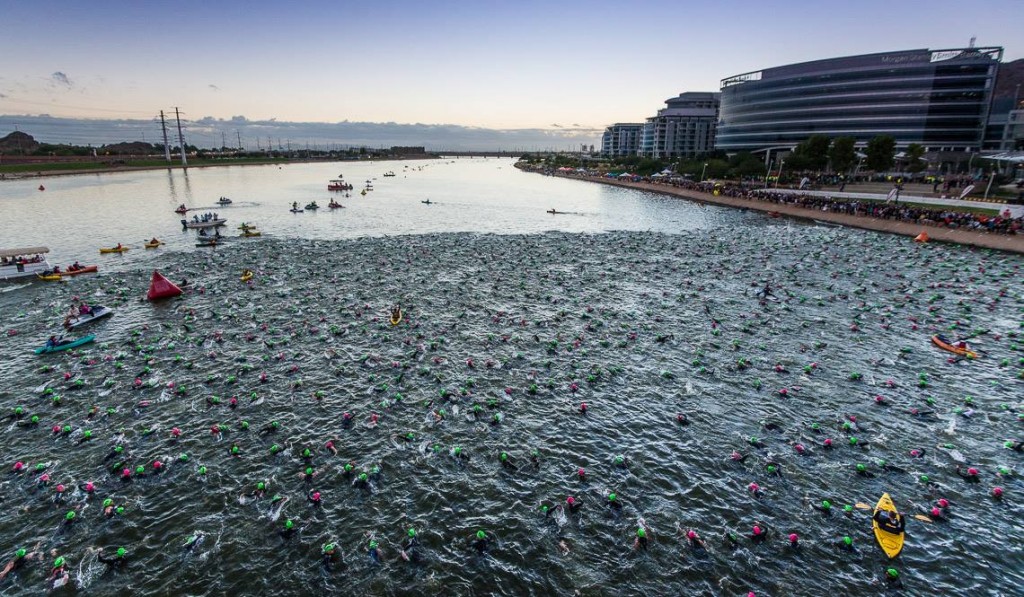 Nothing could have prepared me for the madness of over 2,000 athletes – hopped-up on energy gels, caffeine and anxiety – starting a swim at the same time. When the canon boomed, I held back for about 30 seconds and waited to let the crazies go ahead. Then I found an opening, plunged my head into the water and just kept swimming.
Even though my face, goggles, head, hands and feet got kicked, punched and elbowed countless times, it wasn't as bad as I had been expecting. Annoying yes, but it could have been worse.
I relaxed, visualized the most graceful freestyle and felt pretty good about maintaining my Total Immersion technique.
Sighting and staying in line with my target, however, was a challenge. I veered off and zig zagged throughout the 2.4-mile swim, and added unnecessary distance and time. Takeaway: Swim with the group and let other athletes keep you on track. Avoid the instinctual urge to find open water.
Despite my less-than-efficient swim route, I exited the water about five minutes ahead of schedule feeling fresh. I worked through transition briskly, got my gear, put on another layer of sunscreen, and hopped on the bike still feeling confident.
Bike: 06:25:45 (25:45 over goal)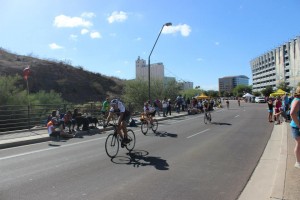 I breezed through the first of three laps on the bike. The biggest challenge at that point was governing myself to go slow and not overdo it. Takeaway: make a conscious effort to reign yourself in and save your legs for later in the day. If others aren't passing you, you're going to fast.
The wind picked up on the second lap, which put more of a strain on my legs, but the air was cool and I was still enjoying the ride among the desert scenery and hordes of other athletes.
I sipped religiously from my sports drink every 10 minutes, stopped to go to the bathroom and put on sunscreen, and occasionally grabbed a banana from one of the aid stations for a treat. Takeaway: stick to your nutrition plan, and apply sunscreen like it's going out of style.
The third lap was a whole different story. The wind increased significantly and the sun quickly stomped out the previously cool morning air. With the added resistance and distance, my legs were feeling it and I grew sore on the saddle. I was able to pick up the speed toward the end, but by the time I got back to transition I was more than relieved to be off the bike and on to the run.
The run: 05:25:29 (No goal set)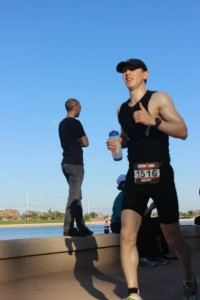 As I said before, the run was the wild card for me. I didn't know how my left foot would hold up on such an intense distance.
Shockingly, the Achilles tendinitis and arch problems that had been plaguing me were non-factors on the run. I think it had to do with my slower pace of about 10-minute miles, and the good amount of walking I did throughout the course.
However, my IT band and hip flexors tightened from the onset, and I worked through incessant inflammatory pain in those areas for the rest of the day. Takeaway: this is the type of pain you can plow through by sheer mental fortitude, without much worry. If my Achilles tendon had blown out or my arch had collapsed, it would have been injury pain and much worse.
The other major hindrance on the run? Nutrition and The Big D. (Skip this section if you're uncomfortable reading about bowel movements.) All the Accelerade I drank on the bike wasn't sitting well in my stomach and needed to be released frequently. I stopped at Port-o-Potties around ten times over the course of the run, with each session lasting about about 3 minutes each. So the Big D cost me about half an hour, which is disappointing considering I might have been able to finish under the 13-hour mark if I'd been able to avoid those issues. Takeaway: diversify your nutrition portfolio. I'd still go with Accelerade on the bike, but I'd reduce the quantity by about a third and add bonk breakers and GU gels instead.
Also, I depended on the aid stations for GU gels during the run and ate them every 20 minutes, with water. However, the style of gels varied from aid station to aid station (different flavors and caffeine quantities), and this may have cause further stomach problems. Takeaway: maintain control – like the control freak you know you are – and bring your own gels.
I jogged slowly for most of the race (about 10-minutes a mile) and walked through the aid stations every mile. And toward the last 10 miles, I was walking five minutes and running 15 minutes. But around the 20-mile mark something clicked in my head that lit a fire in my belly (not Big D related this time).
I started thinking ridiculously positive, inspired and confident thoughts about how awesome this journey has been, and visualized how great it was going to feel to cross the finish line. Not gonna lie: I was spazzing out and I'd occasionally yell out motivating cheers (for myself) that no doubt weirded out any other athletes or supporters within earshot. This, then, would make me laugh out loud (again at myself) and thus make me seem even weirder. A vicious cycle, but a victorious one at that.
With this self-induced shot in the arm, I decided that this was the time to shine, and I picked up the pace. I set my sights on the daunting uphill section of Curry Road just ahead, committed to running up it (after having walked up it earlier on the first lap) and owned it.
At the top of the hill I did a little victory dance in my head, pumped my fist in real life and stayed pretty wired and hyped up for the rest of the run. I still walked five minutes after 15 minutes of running, but I made sure those running segments were faster than before. Takeaway: The run is all in your head.
Finish line: 13:30:18
I picked up the pace on the last couple miles and when I saw the finish-line chute approaching, all the pain in my hips, thighs and knees magically disappeared.
I was flying high when I crossed the finish line after 13 hours, 30 minutes and 18 seconds of racing, and couldn't contain my excitement. I let out a couple triumphant war cries that probably startled most of the volunteers in the area, which you can see around the 8:19 mark in the Ironman Arizona finish-line video (above).
I wrapped a tin foil blanket around me to keep warm and proceeded to hug my family, friends and anyone else I could get a hold of. One of the best moments of my life.
After the race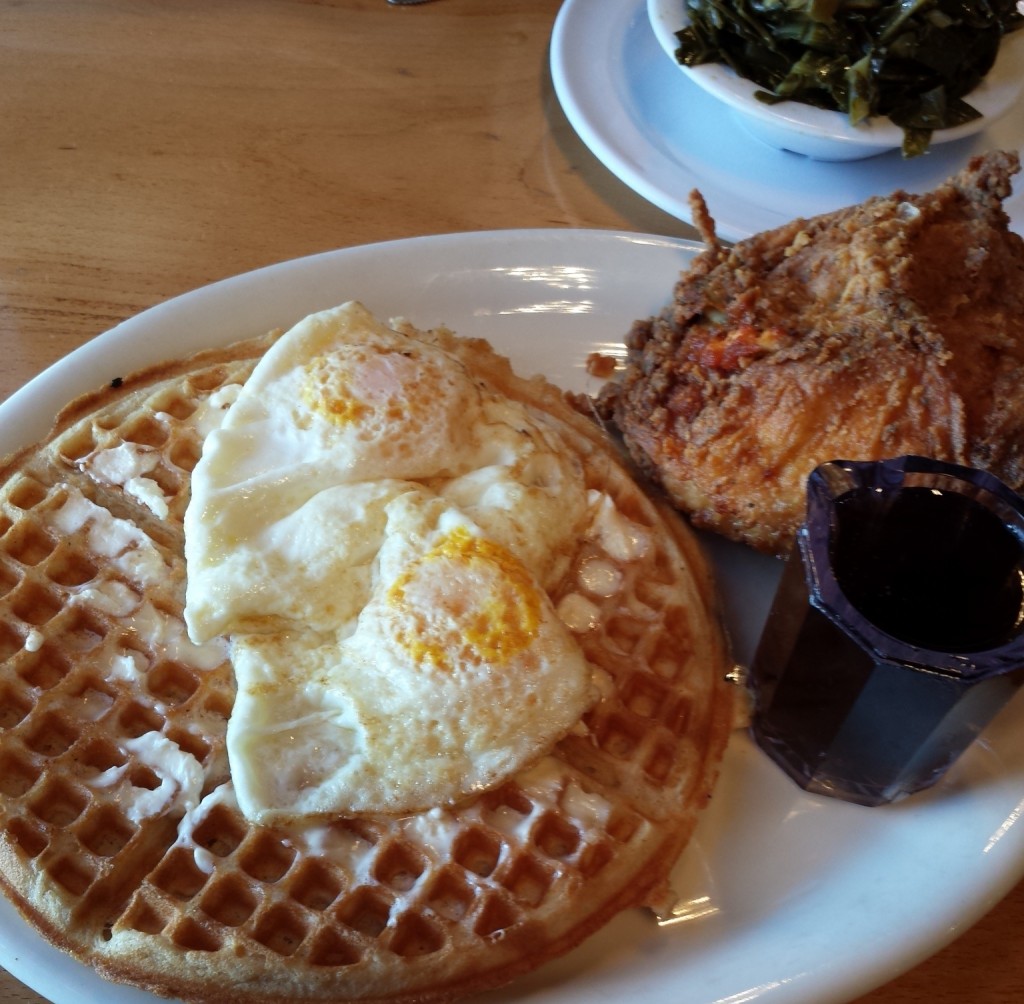 My high lasted for about an hour as I walked around, ate pizza, drank water and waited for my sister to finish.
Remember the part about not checking-in my morning clothes bag before the race? Well, this is where that gaffe comes into play. Without my warm clothes and recovery drink, I grew cold, sore and cranky as I slouched in a chair in the finisher area trying to keep warm.
I remained a relatively unhappy camper for the rest of the night – although I was still pretty jacked up about the accomplishment – and I managed to muster up energy to congratulate my sister after she finished. (Read Cecily's race report here.)
When I got home around 1am, my hips, quads and knees were tight and wrecked. I had to crawl up the stairs to shower and get ready for bed, but that proved so painful I ended up crashing on the couch downstairs instead. And as tired as I was, my head was still wired from the race, so very little sleep was achieved that night. Takeaway: plan the hours after the race out so that they're as easy and comfortable as possible.
Recovery week
Day 1: Morale was way up, despite feeling crippled and exhausted. My first meal as an Ironman kept my spirits lifted: Chicken and Waffles. For the rest of the day my body hurt pretty badly. I dozed off a handful of times, and got a great night of sleep that night.
Day 2: I felt much better, but still tired in the afternoon and moving at about 50%.
Day 3: Still improving, I took a light 800m swim to help loosen up and work out the kinks. Again, tired in the afternoon and later in the day.
Day 4 and 5: Caught a cold, took it easy. Managed to squeeze in some foam rolling.
Day 6 and 7: Pretty much fully recovered. Felt ready to slowly work back into an exercise routine.
Top three takeaways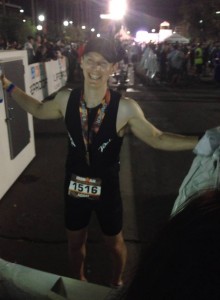 To recap, here are the three major lessons I learned from race day:
Race day is all mental. You've already put in the work. Tune out the distractions and make it happen.
Avoid the Big D. Nutrition plays a huge role. Diversify your sources of calories to avoid stomach problems.
Follow through at the finish line. Check-in your morning clothes bag and make sure you have everything set-up in advance so that you can bundle up, fuel and recover from the race as quickly and comfortably as possible.
What now?
The only set race on my agenda so far is the Ragnar del Sol Relay in late February. So, I'm working out about every other day, but primarily focusing on getting my Achilles tendon back to 100 percent in time for Ragnar. Otherwise I plan on getting back into Crossfit workouts, specifically to learn and improve my Olympic lifting ability.
I plan on completing another Ironman triathlon, but it'll probably be at least a couple years before I'll be able to fully dedicate a year to training again.
However, I will try and work in a few olympic and half-Ironman races in the next year.
And don't worry: Tri for Les isn't going away just because Ironman Arizona has now been dominated.
Stay tuned for a more-detailed post about what's next, and thanks as always, for everything.
– Live every day –
Adam
---
Photos courtesy of friends and supporters who posted pics from the race on Facebook. Thanks, guys.