This just got real.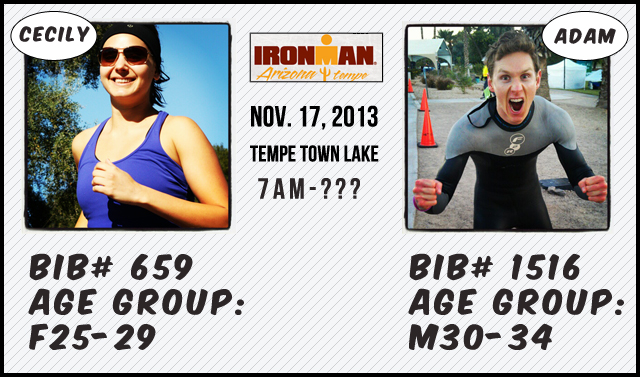 We're exactly three weeks away from Ironman Arizona. Can you believe it? Neither can we.
And, as per usual, we're wholeheartedly jacked up to get out there and take on the beastly 2.4-mile swim, 112-mile bike ride and 26.2-mile run.
The support we've received throughout this journey has been humbling, not surprising and incredibly inspiring.
We'd love to see as many familiar, smiling, screaming, holla-ing, cawing faces as possible along the course on race day.
And if you've never witnessed a race like this before, you're in for a treat: the atmosphere of an Ironman race is unlike any other, and well worth coming out just to experience the insanity.
Here are the key details to help you plan your day:
See parking info, road closures, course maps and answers to FAQ in this handy spectator cheat sheet: 2013 IRONMAN Arizona Spectator Guide
Time
The swim starts at 7am, but we'll be out at Tempe Beach Park as early as 4am, setting up, stretching and sorting through various fits of anxiety.
Where to watch
Here are some ideal spots to post up and catch the action. It's going to be a zoo on race day, but the race course is very spectator friendly, so don't worry if you don't get these exact locations.
Swim: On top of Mill Ave. bridge to watch the crazy start, or anywhere nearby in Tempe Beach Park or Giuliano Park.
Bike: Corner of Mill Ave. and Rio Salado is where the bike turnaround occurs
Run: Under the mill avenue bridges
Finish Line: A sight to behold
Vitals
Cecily's deets:
Bib #659
Age group: F25-29
Estimated Swim Finish Time: 8:30am
Estimated Bike Finish Time: 4:00-4:30pm
Estimated Run (and IRONMAN!) Finish Time: 10:00-10:30pm
Adam's deets:
Bib #1516
Age group: M30-34
Hopeful Swim Finish Time: 8:30am
Hopeful Bike Finish Time: 2:00-2:30pm
Hopeful Run (and IRONMAN!) Finish Time: 7:00-7:30pm