Update: The shirts turned out awesome and we raised over $400 for the Arizona Humane Society!
Thanks to everyone who bought a t-shirt, rocked it on race day and otherwise supported the cause.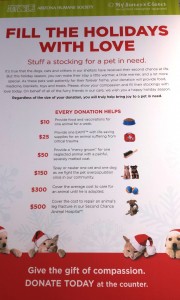 Our total donation of $416.33 is a nice chunk of change for a great organization, in honor of our animal-loving aunt Leslie.
Here's an idea of what the donation amount will cover:
The average cost to care for an animal until it's adopted ($300)
"Mercy grooms" for two neglected animals with painful, severely matted coats ($50 x 2)
Food and vaccinations for one animal for a week ($10)
We're so happy to have been able to give something back during our Ironman journey, and lucky to have such a generous support crew in our corner.
You guys rule. Be sure to remember that every time you wear these shirts.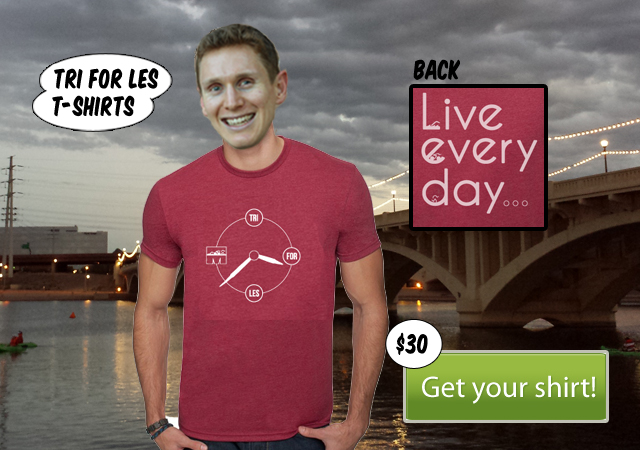 You know you wanna look as cool as this guy, and wear a limited edition Tri for Les t-shirt to support Adam and Cecily on race day. Plus, you'll be supporting the Arizona Humane Society!
Can you say win, win, win, win?
Click the DONATE button below to order your shirt and email Adam with your size. Also, hurry up: the deadline to order is Nov. 3!
— Update: T-shirt sales are now closed! —
But if you still want to support the cause and donate $30 to the Arizona Humane Society, click the donate button below.
T-shirt Details:
Price: $30 each
A form-fitting, comfy, cotton/poly blend
Mens fit true to size, womens run a tad small
The deal is only on if 24 shirts are sold
Deadline to order: Nov. 3
Why are we donating the proceeds to the Arizona Humane Society?
Our aunt Leslie loved animals, and even ran her own pet-sitting business. We love animals too. So in honor of Les, we wanted to support a local organization that helps animals.
The Arizona Humane Society (AHS) works to improve the lives of animals, alleviate their suffering, and elevate their status in society.
AHS receives no government funding, and relies on donations to support the 44,000 animals they take in every year. Also, 85 cents of every dollar goes directly to innovative programs and services dedicated to pets in need.
We think it's a great fit and are excited to support the cause.
We hope you'll join the Tri for Les support squad, order your shirt today, and wear it on Nov. 17 as we take on Ironman Arizona! If you plan on coming down to the race, see our Spectathlete guide for helpful information.